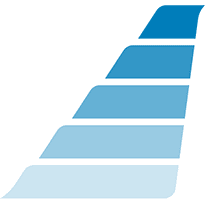 Since launching our company, we have assembled a team of highly experienced personnel that understand our goal of putting customers, their schedules and their expectations first. We are a Part 135 Charter Operator, a Part 145 Repair Station and own and operate an FBO. We have experts for every aviation need – including avionics, charter, interiors, maintenance, management and sales. Our maintenance and avionics leads, alone, have more than 100 years of combined experience working on jet, turbo prop and piston aircraft. We are proud to call Birmingham, Alabama home and have expanded our passion for aircraft to select airports in Atlanta, Georgia, PQL in Pascagoula, Mississippi, and ECP in Panama City, Florida. We welcome you to visit one of our locations, meet our excellent team and discuss how we can be of service to you.
William L. Gunnells
Chairman
Bill Gunnells
Chief Executive Officer
Bill is the Chairman of the Board of Southern Sky Aviation and this is not his first appearance in the Birmingham Business scene. He started the prescription drug card company, Rx Benefits in the mid nineties and built it to be one of the premier employers in the Birmingham area. Rx Benefits became a leading national company for prescriptions benefit management in the small employer space under his leadership. After selling that company, he turned his attention to the aviation industry in Birmingham, Alabama.
Southern Sky Aviation is a company that Bill established to fill a void in the Birmingham Aviation Industry and looks forward to offering great service and continued growth.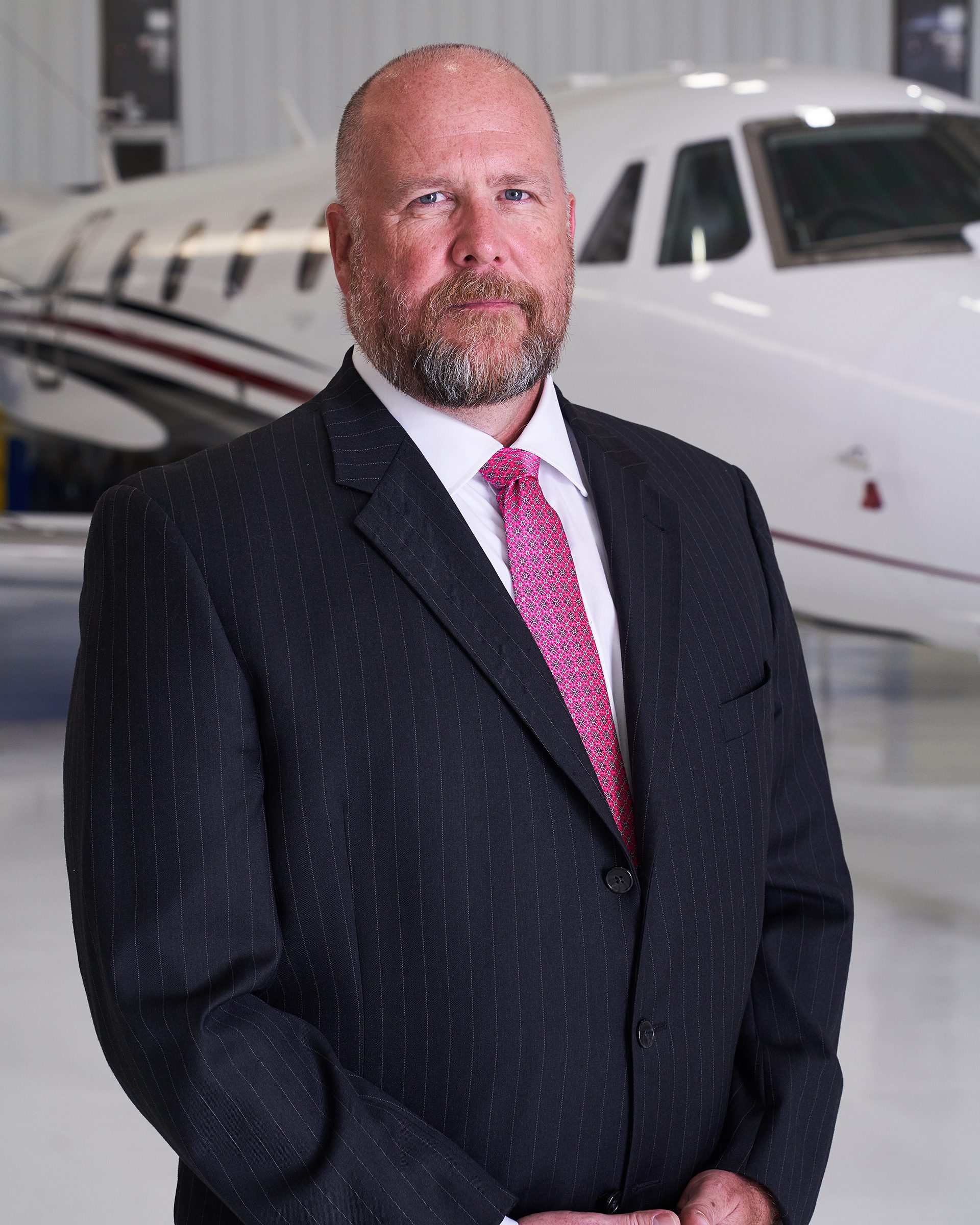 James B. Andrews, Jr.
Chief Executive Officer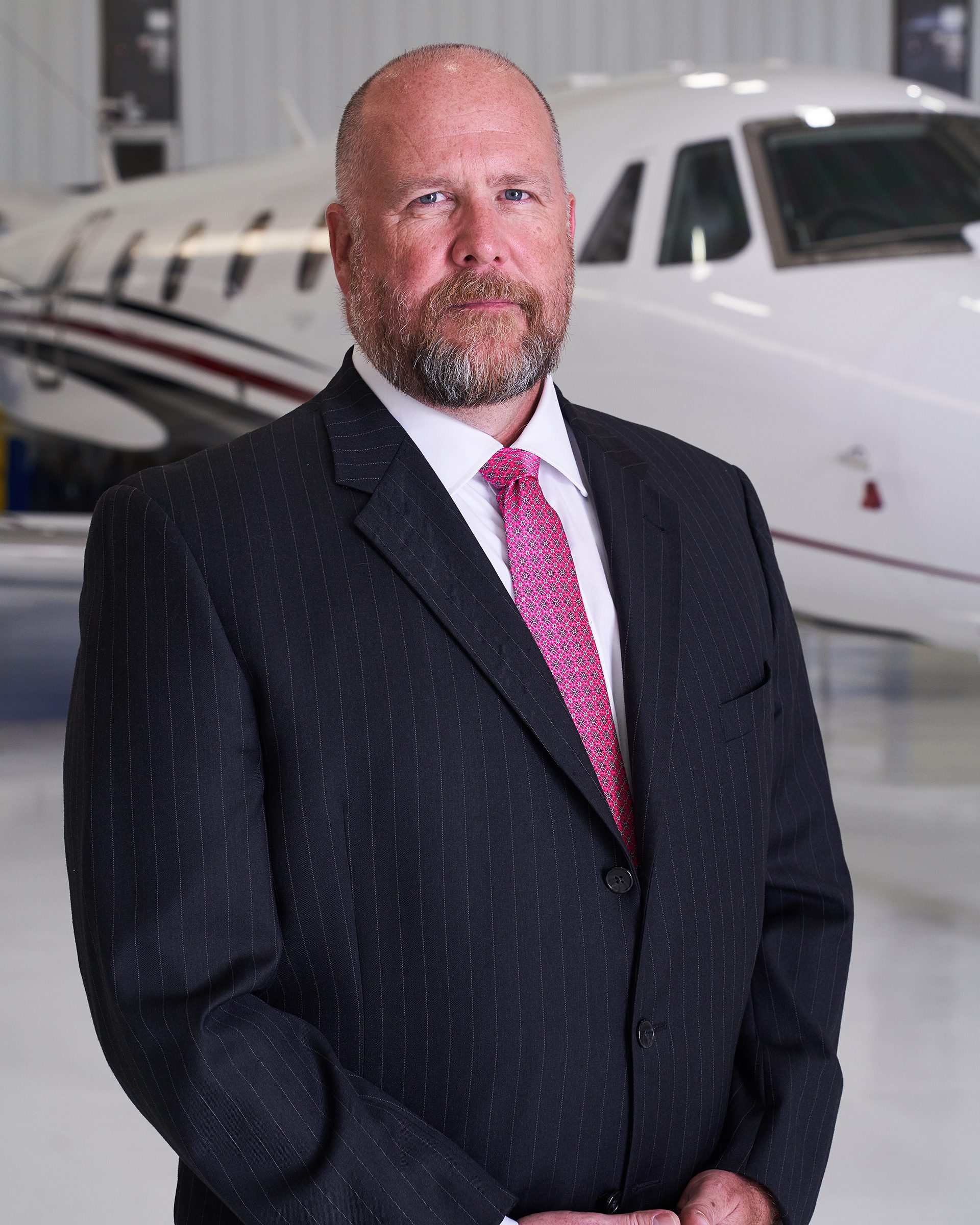 Bo Andrews
Chief Executive Officer
As CEO of Southern Sky Aviation (SSA), Bo Andrews oversees the company's day-to-day operations, as well as, maintains his status as a pilot.  He has been a commercial pilot for twenty-five years and is experienced in multiple types of aircraft. Bo has logged over 8,000 hours in his aviation career and is the Accountable Manager of SSA's FAA 135 and 145 Certificates.
Bo has an undergraduate bachelor's degree from Faulkner University in Criminal Justice.  He is a charter member of the National Criminal Justice Honor Society.  He also holds a Juris Doctorate from Birmingham School of Law, graduating as a member of the Judge Hugh Locke Honor Society.
In 2000, Bo became the Director of Investigations for Saks, Inc Department Stores. By 2007, Bo began to blend his aviation and private sector law enforcement experience, volunteering his support to the State of Alabama Aviation Division and flying for Rx Benefits as a contract pilot in a Beechcraft Bonanza, a King Air E90 and a Cessna Citation 560. In 2010, he moved over to Protective Services as an Alabama State Capitol Police Officer under Governor Bob Riley's administration and then moving on to Special Operations Unit in Pell City, Alabama.
By 2010, Rx Benefits had experienced a need for a full time Aviation Division.  In 2011, Bo was promoted to Chief Pilot of the RxBenefits Aviation Division.  The company sold in 2015 and Bo and Bill Gunnells (RxBenefits, Inc CEO) started a company today known as Southern Sky Aviation LLC.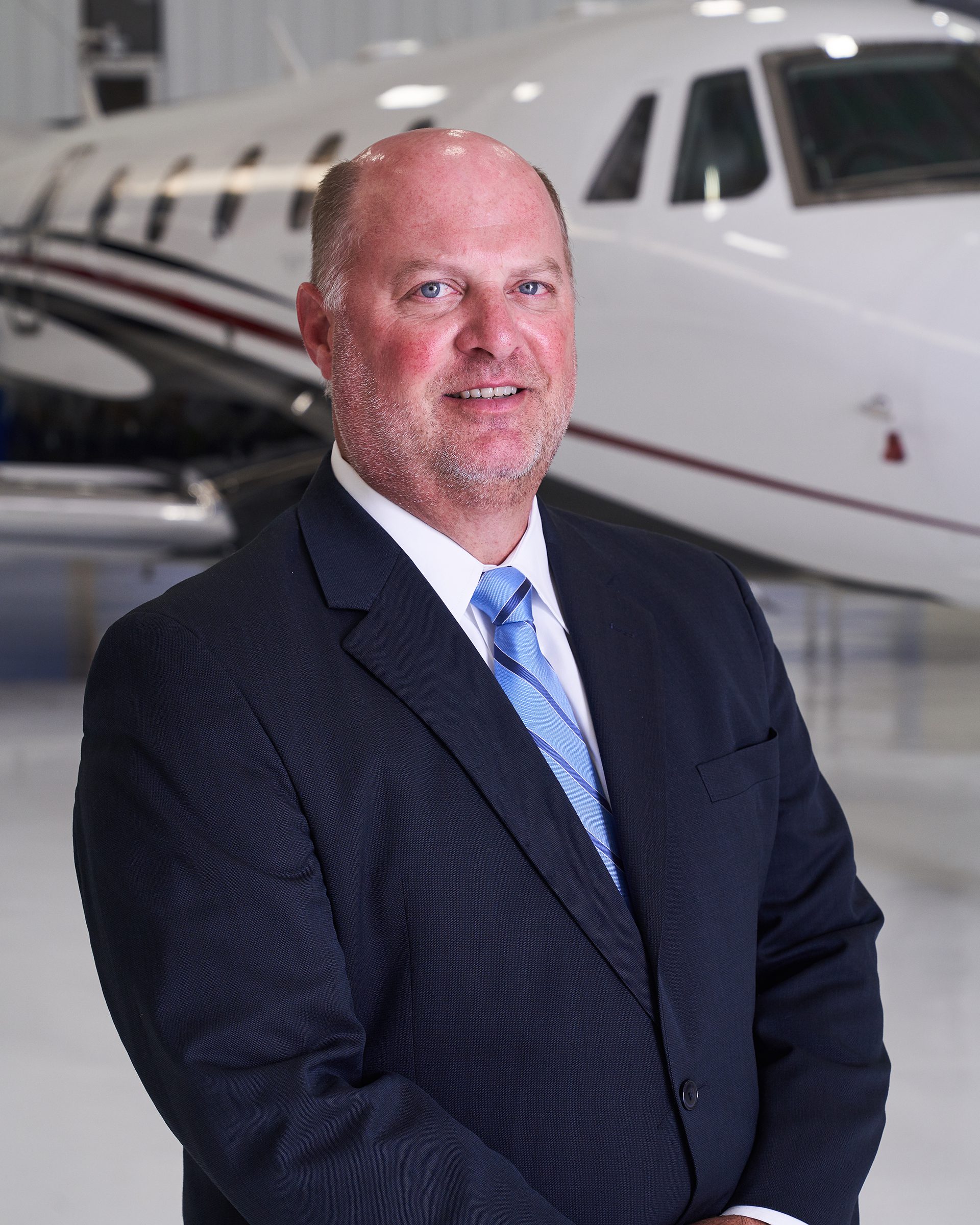 Donald A. Howell
President & Chief Financial Officer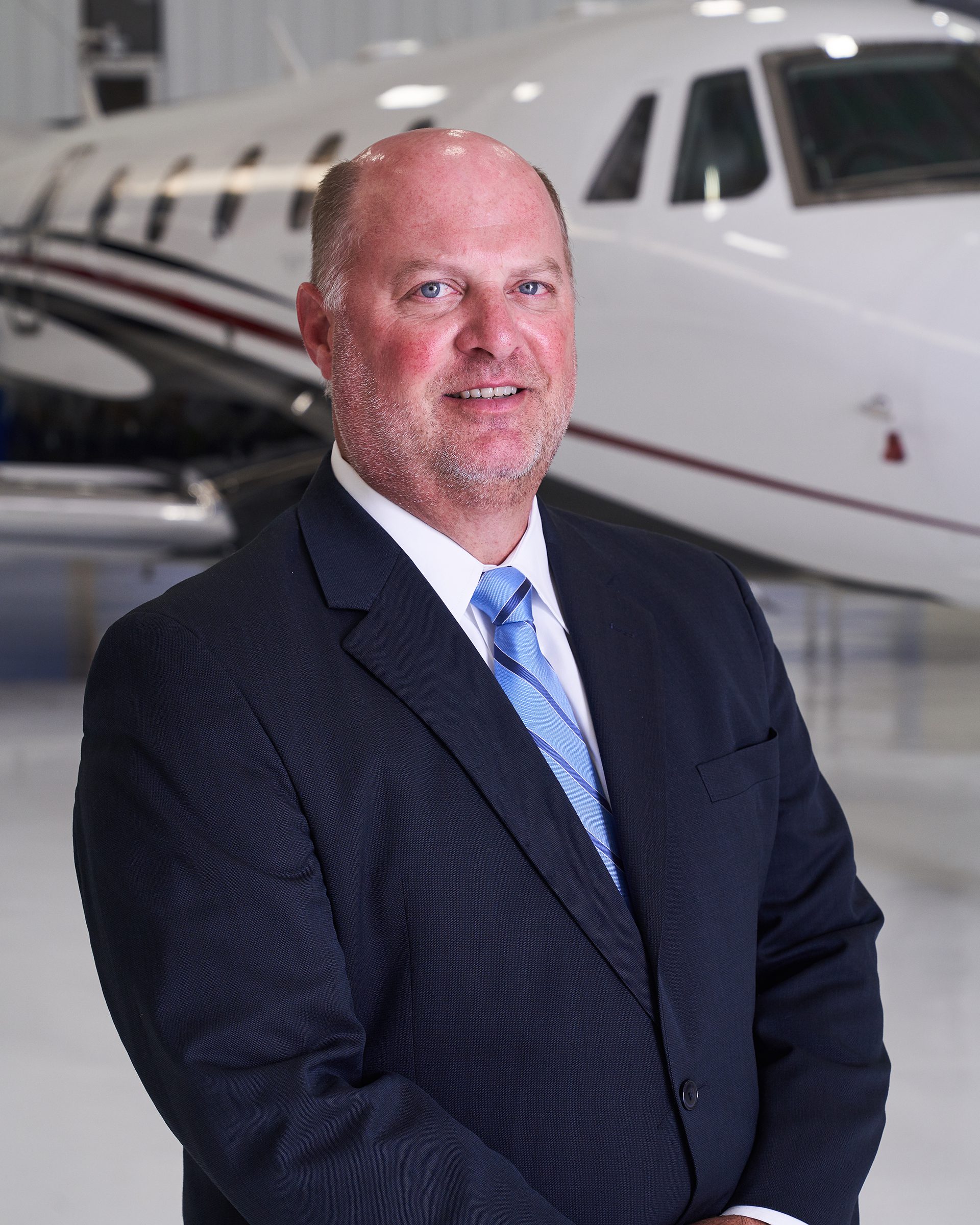 Donald A. Howell
President & Chief Financial Officer
Donald joined Southern Sky Aviation in February 2018 as Chief Financial Officer and assumed the dual role of President and Chief Financial Officer in November 2018.  He is responsible for overseeing daily operations across all service segments of the business and has overall financial responsibility for the company. He also works with the Chairman Bill Gunnels and Chief Executive Officer Bo Andrews on setting strategic direction of the company and identifying target acquisitions.
Donald graduated from Auburn University in 1990 with a degree in Accounting.  He is a licensed Certified Public Accountant with 27 years of public accounting experience in the Aviation, Distribution, Healthcare, Manufacturing, Retail and Distribution Industries.  He also specialized in advising clients on Mergers and Acquisitions.  Donald's public accounting experience included 12 years at Arthur Andersen, 2 years at KPMG and 13 years as a partner in a local firm.
After 27 years in public accounting, Donald served as Executive Vice President/Chief Financial Officer and Chief Executive Officer of a consumer product start-up manufacturing company.  Donald was instrumental in launching this company from its inception and through the first three years of growth.  He managed the international supply chain reducing costs by 33%.  In addition, he also managed the intellectual property owned by the company.  The company sold its assets to an investor group in February 2018.
Mike Arrington
VP Quality
Mike Arrington
VP Quality
Mike is our Director of Maintenance on our 135 Certificate as well as our Vice President of Quality on our 145 Certificate. He reports directly to our 135 Certificate Accountable Manager, Bo Andrews.
He has over 35 years' experience in Aviation Maintenance and 20 of those years have been in a management role. Much of this time was spent with General Aviation companies such as Beechcraft, Constant Aviation and Beech Aerospace. He brings invaluable experience to our shop, not only from a quality standpoint but in a training capacity as well.
Technical Training:
Beech jet 400/400A Maintenance Initial
Cessna Citation 500 Series Maintenance Initial
Lear Jet 30 Series Maintenance Initial
Beechcraft King Air SIRM Training
Pratt & Whitney PT6 Line Maintenance
Current License:
FAA Airframe and Powerplant License
FAA Inspector Authorization
Magan Batchelor
Corporate Controller
Magan Batchelor
Corporate Controller
Magan Batchelor joined Southern Sky Aviation in November of 2017 as a Senior Accountant. She is responsible for assisting in the day to day operations and financial reporting of our maintenance, and corporate divisions.
Prior to joining Southern Sky Aviation, Magan served as a Senior Accountant at RxBenefits, Inc. where she worked with the accounting team during periods of large growth and a subsequent acquisition. Prior to her time with RxBenefits, Magan spent over seven years in various bookkeeping and accounting positions with increased responsibility in the manufacturing and childcare industries.
Magan earned a Bachelor of Science in Accounting from Jacksonville State University. She qualifies as CPA eligible and is currently preparing to sit for the CPA exam.
Darryl Brewer
President–FBO Division
Darryl Brewer
VP Business Development
Darryl Brewer, Southern Sky's Vice President of Business Development, has been proud to call BHM home since 1978, working in various positions for nine FBO's since that time. Darryl has been the General Manager of several of BHM's FBO's, to include Mercury Air Center, JetSouth and most recently Atlantic Aviation since 1999.
As VP of Business Development, Darryl is utilizing his personal relationships with Aviation Professionals throughout the country to expand the footprint of SSA nationwide and beyond. Everyday he works to ensure that, whether purchasing a new aircraft, maintaining your investment or chartering a flight, our customers know that their schedules and expectations come first.
Jeff Cotton
VP Aviation
Jeff Cotton
VP Aviation
Jeff Cotton is the vice president of aviation for Southern Sky Aviation. Jeff is responsible for all Southern Sky Aviation aircraft and pilots, hiring and training of all pilots, assigning flight crews, and ensuring that aircraft maintenance is completed. In addition to his many duties, Jeff's experience is necessary in keeping the company's FAA 135 Certificate operational and compliant.
Barry "Bear" Lambert II
VP Charter Operations
Barry Lambert
VP Charter Operations
Bear serves as the VP of Charter Operations for Southern Sky Aviation. His responsibilities range from guidance for our managed clients, the overall success of our charter department and aircraft sales and consulting for new and existing clients. He works with aircraft owners and buyers to develop an operational plan best suited for their needs.
Bear has more than a decade's worth of experience in aviation in various roles. He started as an aircraft researcher and has been in business development, sales and acquisitions, owner services, and finance – suffice it to say, he knows the aviation industry. Bear has managed teams in finance, business development, aircraft sales, and charter. Bear personally developed an owner reporting package for aircraft owners using charter services. His experiences allow him to see aircraft ownership and management through a unique, holistic perspective for aircraft owners and potential owners.
Bear currently sits on the Air Charter committee for the National Air Transportation Association (NATA) and is a Board Member of Alabama Business Aviation Association (ALBAA).
Brian Nagashima
Avionics Service Team Manager
O'Neal Pierce
PISTON SERVICE TEAM MANAGER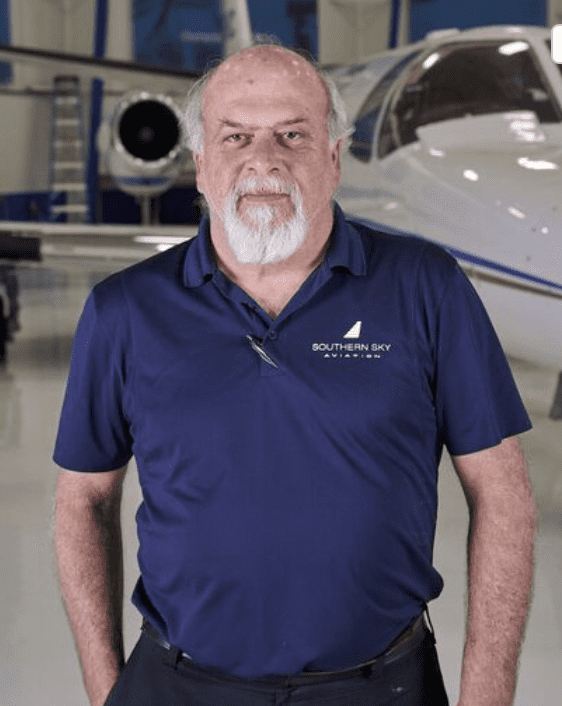 Bill Hindi
Piston Service Team Manager
Bill Hindi is the premier Piston Maintenance technician for Southern Sky Aviation. Bill has been working in Aircraft Maintenance since 1980 and has held a wide range of positions in this field. Along with his team, he has established Southern Sky Aviation as the leader in Piston Maintenance for Alabama and the Southeast.
Education and Technical:
U.S. Air Force Non-Commissioned officer academy
U.S. Air Force Senior Non-Commissioned officer academy
F-111D Flight control and landing gear school
F-16 Hydraulic school
F-16 Maintenance school
Aircraft Production superintendent school
GE 110/F100 Turbofan engine classes
Beechjet initial maintenance class
King Air Initial maintenance class
Cirrus design aircraft maintenance courses
Eclipse Aviation Initial maintenance school
Retired at the rank of Senior Master Sergeant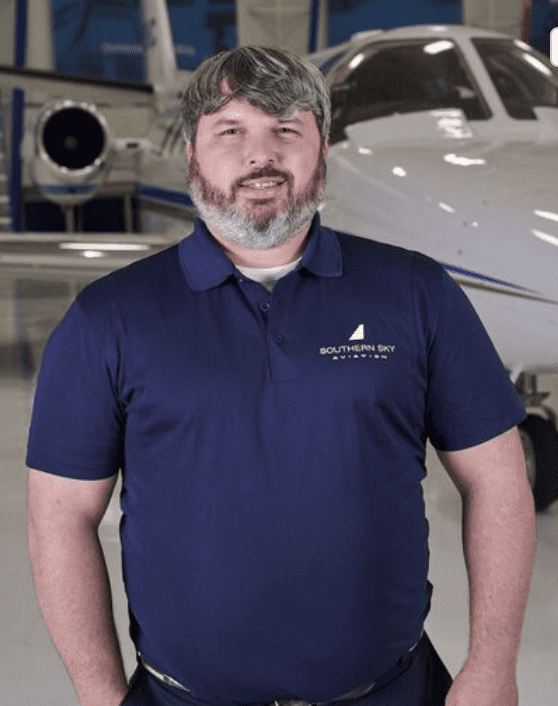 Jeremiah Watts
Interior Service Team Manager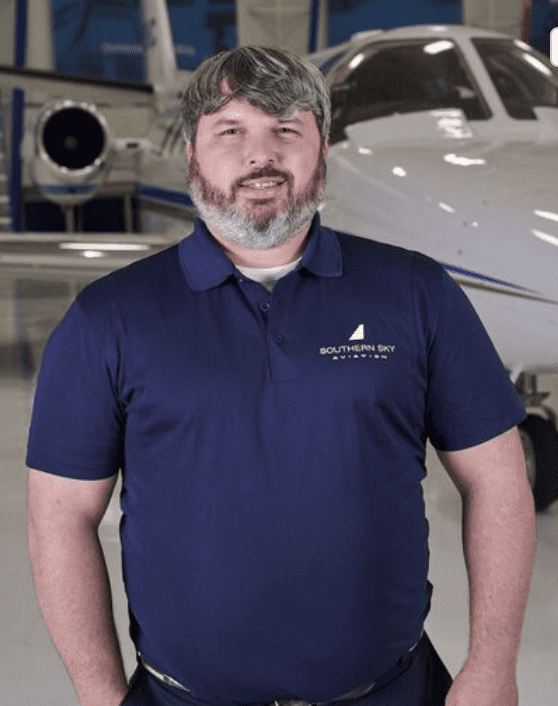 Jeremiah Watts
Interior Service Team Manager
Jeremiah came to Southern Sky Aviation in March of 2018. Watts Interiors has been a the leader in Aviation Interiors at BHM since 1976 and now they bring those significant talents to Southern Sky Aviation. As a result of Jeremiah joining SSA, we have been able to create a "one-stop shop" for all maintenance and interior needs for our customers.
Jeremiah and Mike have built a reputation as the experts in all things interior in the Southeast and are helping SSA continue to offer World Class service in all areas of maintaining your aircraft.
Ralph Young
Director of Maintenance
Ralph Young
Director of Maintenance
Ralph Young started his career as an A&P Certified Maintenance technician in 1981 at Stevens Aviation. By 1991 he had been promoted to the Service Manager at Stevens, holding this position for the next nine years. His experience with Raytheon/ Mercury Air Center as a Field Service Representative and then Back to Service Manager until 2006 only added to his supervisory and technical skills. He then moved to McGriff, Seibels & Williams in 2006 where he was Chief of Maintenance for the next 14 years. At McGriff, he was responsible for all aspects of the maintaining and inspecting company aircraft and managing the maintenance technicians working under his charge. During this time Ralph also attended multiple Aircraft schools, including King Air B100, 300 C90B, Lear 35, Citation 650, West Wind 1124 and Beech Jet 400A.
Ralph joined Southern Sky Aviation in May of 2020 as the Director of Maintenance for our FAA 145 Repair Station.
145 Federal Aviation Regulations
The repair station certificate is an "Air Agency Certificate" that refers to the aircraft repair services and tasks that a repair station is authorized to perform. An FAA repair station can only perform the functions necessary to inspect, repair, replace, or overhaul those aviation articles for which it has been conducted or supervised by a qualified Director of Maintenance. He/She must hold a Airframe and Powerplant Certification.
Our Commitment
We believe that when you are doing business and focused on your local community you always strive to do a better job. It is our commitment to hire local and train our team to do it the Southern Sky Aviation way, while building a world-class aviation company.
BHM
Birmingham, AL
We started Southern Sky Aviation after seeing an opportunity to provide services that didn't exist from a local Birmingham company.
ECP
Panama City, FL
Newly constructed FBO along the Florida Northwest Gulf Coast.
PQL
Pascagoula, MS
Our first FBO brings our exceptional services to the Mississippi Gulf Coast – sixty-two miles of quaint town, seaside retreats and busy businesses.