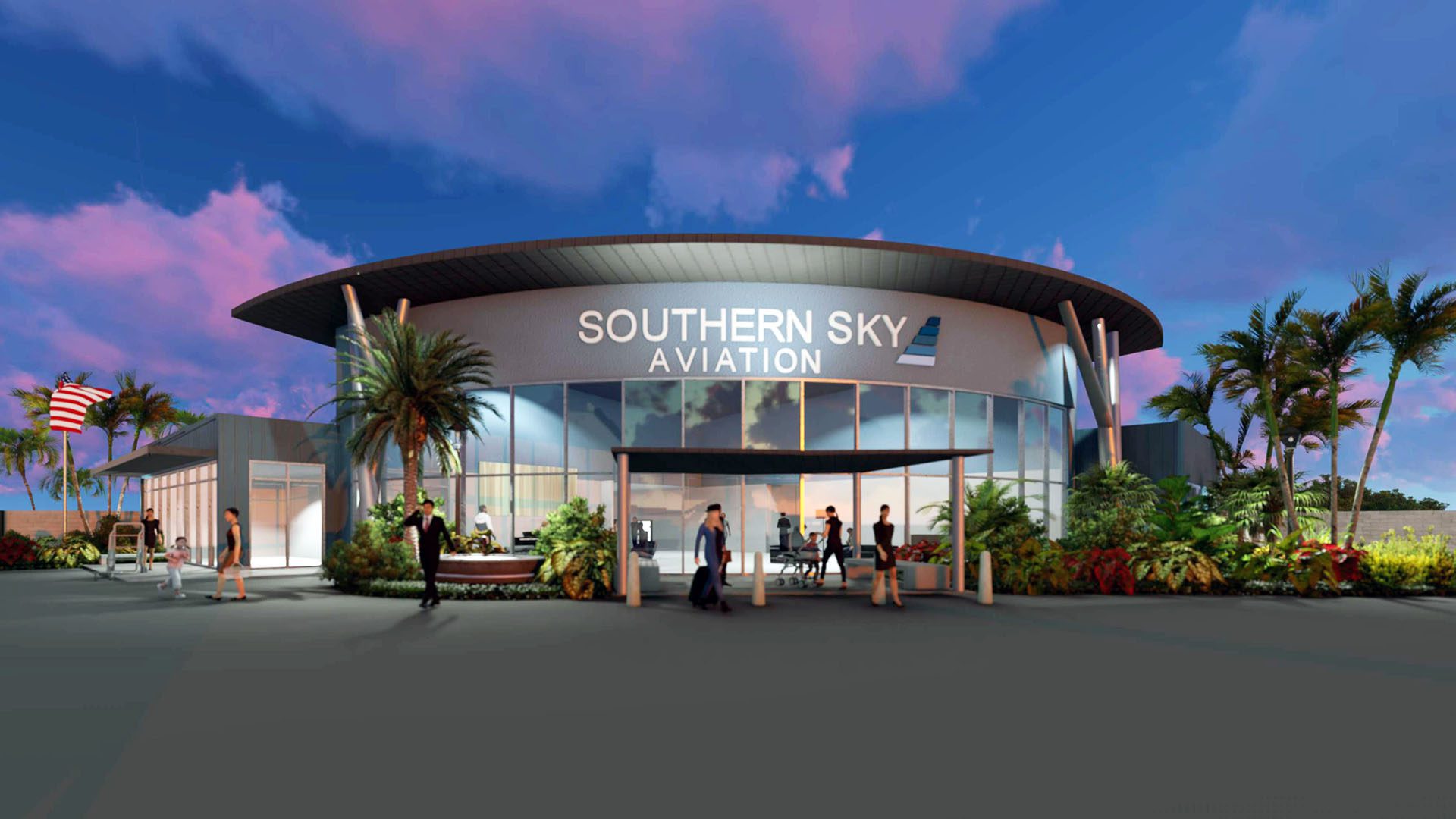 Panama City, FL/June 29, 2022-Southern Sky Aviation has entered into a 30-year agreement with the Panama City-Bay County Airport and Industrial District to invest over $25 million to develop an FBO at Northwest Florida Beaches International Airport (KECP) in Panama City, Florida.  The lease agreement provides two 10-year lease extensions.
The development will encompass over 10 acres of new ramp with an 8800 square foot FBO terminal and over 73,000 square feet of hangar space.  The FBO terminal will have a conference room with audio/visual/digital capabilities, offices available to customers, pilot lounge, pilot shower facilities, flight planning and a refreshment center.  The customer parking area will provide a limited number of electric recharging stations.
"Southern Sky Aviation is excited to be part of the Northwest Florida Beaches International Airport," says Bo Andrews, Chief Executive Officer of Southern Sky Aviation.  "We have been working on this project for two years.  I am very proud of our team for achieving this milestone event for our company."
Donald Howell, President of Southern Sky Aviation, commented "The Northwest Florida region has experienced significant growth over the last several years.  Southern Sky Aviation is proud to join this growth and be another gateway for economic development in this community.  We look forward to working with the community and the District to grow the airport."
"We are a team that is passionate about serving the aviation community.  We planted the seeds for this project over two years ago.  Now, we are seeing the results of our dedication and commitment to making this project a reality," said Darryl Brewer, President of the Southern Sky Aviation FBO. "We are excited to be able to serve the airport's tenants and guests with exceptional care and safe, quality services."
Southern Sky Aviation offers maintenance, charter, management and aircraft sales services.  The company's background in aviation will allow it to develop a highly personalized FBO experience.
About Southern Sky Aviation
Southern Sky Aviation, LLC is a full-service private aviation company offering Aircraft Charter, FBO, Management, Maintenance, and Sales. Southern Sky Aviation is Headquartered at a private terminal at the Birmingham-Shuttlesworth International Airport. For more information on Southern Sky Aviation, please contact (205) 703-9737 or visit www.southernskyaviation.com.
Media Contact:  Donald Howell, 205-895-5013, dhowell@southernskyaviation.com